Christmas Cupcake Toppers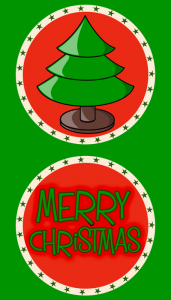 Free printable red and green Christmas cupcake toppers featuring the words "Merry Christmas" and a green pine tree. Hmm… It must be a fake tree, that stand doesn't look natural and didn't get around to decorating it yet either. You've got plenty of time (over 7 months) to print and assemble these toppers.
Enjoy and have a Merry Christmas!
Download the PDFs: Tree Toppers | Merry-Christmas
Each file will make 2″ squares when printed. These can then be punched into circles or other shapes with a paper punch.
———————————————————-
Join the party – A Bowl Full of Lemons